But, with lounge acts playing practically all night, the wives had something to do and weren't bored. Thus, husbands could spend the night at the tables.
I didn't know what a sports book was until I moved here. There are billiard tables, gaming consoles and a DJ booth.
. There are poker machines, a nifty computerized blackjack game and lots to eat — from very casual to full gourmet meals.There's also, overlooking The Strip and the pirate show at Treasure Island just across the street, plenty to watch.
To celebrate the opening, celebrities from the worlds of both sports and entertainment walked the "Green Carpet." Among them were Entourage actors Jeremy Piven and Kevin Dillon, Warren Sapp, formerly of the Oakland Raiders, Olympic Gold-medalist Bruce Jenner, race car driver Danica Patrick. So, while players can bet, they can also find white-tablecloth service and the best of Emeril Lagasse's food.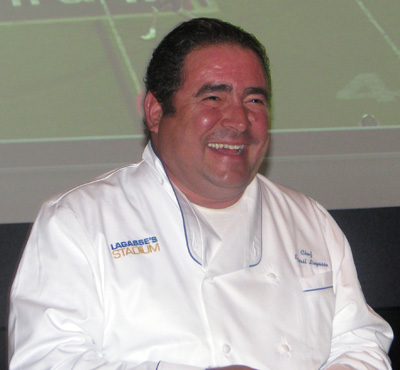 Note: I don't work for the Palazzo and only tend to go there either to see a show or take visitors to the shops. There are 105 hi-def TVs, including two custom-built 103-inch plasma screens and a 9 x 16 video wall. You find people carrying odds sheets, newspapers and other publications dealing with sports.
It is very smart planning.
Now, the sports book is not unique to Las Vegas. The people who staff them are usually quite willing to explain such arcane concepts as the "point spread" to people who — as I was — are clueless. But, remember, this is Las Vegas so, of course, the most spectacular sports book anywhere is here and it's Lagasse's Stadium.
Lagasse, a Boston native who is a self-confessed "sports junkie" got the festivities going with a hearty "BAM!" Two days later I happened to be near there and took a peek. I knew what Off-Track Betting (OTB) is because in New York that is common and — being my father's daughter — I do like the ponies at Triple Crown time. I am not a regular at all. Looks like the Palazzo bet on a winner.
Lagasse's Stadium boasts private luxury boxes that open directly onto the Las Vegas Strip.
The Sports Book is usually comfortable — tables, chairs, a nearby conveniently located bar and lots of TV screens and big LCD scoreboards. Specifically, it is a Sports Book. At that time, most gamblers were men (probably still are) and the wives would get bored waiting around for them and would coax them away from the tables. They have them in other places.
In case you didn't recognize him, that very happy man aboveleft is Emeril Lagasse. With lots of amenities.
It is because of the Sports Books here that Super Bowl weekend is the busiest one of the year.
In his sports book, Lagasse offers the same thing. But a Sports Book? No idea.
The 24,000 square-foot space — very wisely — has features that will please both bettor and non-bettor. The line was out the door. The photo was taken last Friday when he hosted the grand opening of Lagasse's Stadium at the Palazzo Las Vegas.
The philosophy there seems to be the same that led to the creation of lounge entertainment 50+ years ago. But what I describe below is very impressive.
Lagasse's Stadium is not a place to play games. Rather, it is a place where one can find a form of gaming.
So, what I've learned is that a Sports Book is a feature of just about every casino in town. (Haven't been in all of them, so I cannot be any more definitive.) It is where anyone wishing to bet on any sport and for which a person can place a bet can go and bet